The stories of asylum-seekers detained far away from the Israeli public are rarely brought to light. The Israeli government would like to present them as dangerous "infiltrators" who came to Israel to seek jobs, and not as people who fled persecution. The Hotline for Refugees and Migrants collected testimonies of asylum-seekers detained indefinitely and without trial in the Holot internment camp under the Anti-Infiltration Law. Oren Ziv, a talented photojournalist from the activist photographers collective, ActiveStills took the photos of the detained asylum-seekers.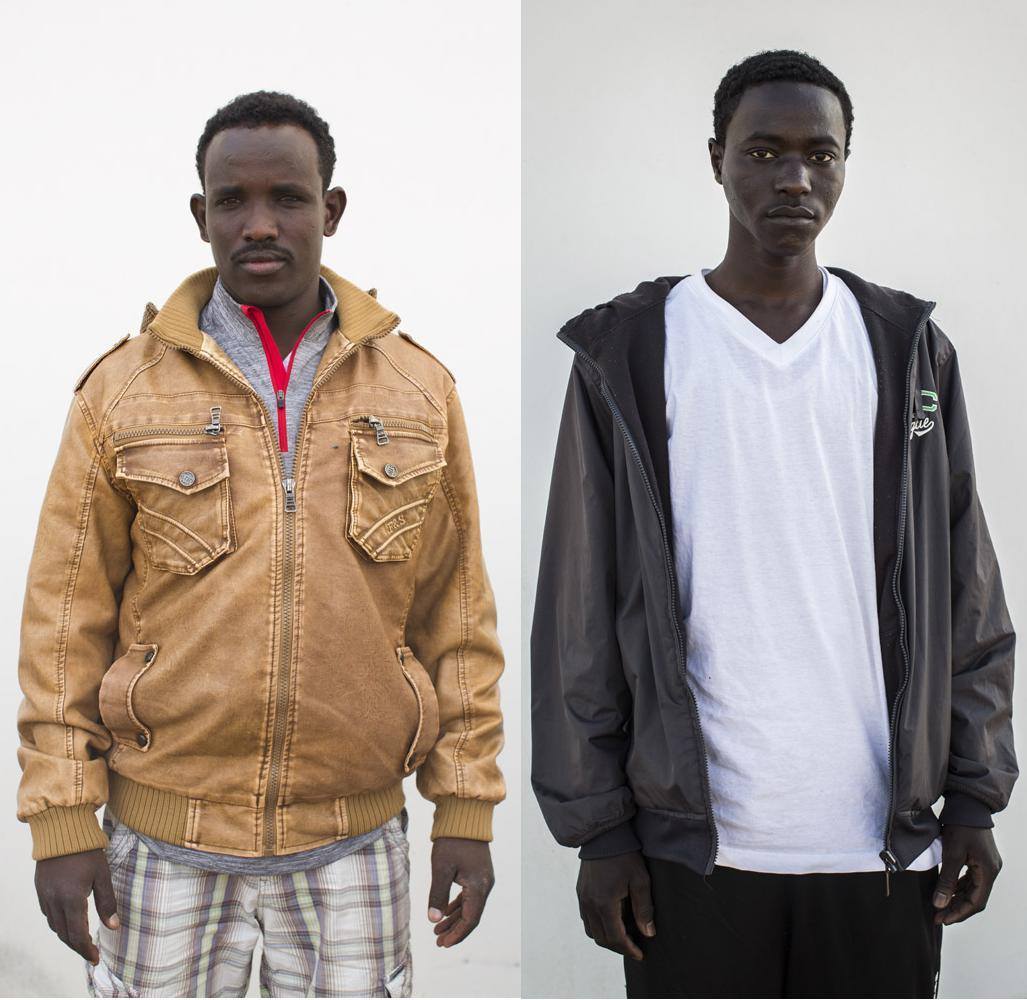 Solomon (Left): I was a soldier in Eritrea. During my military service I was tried to 3 years in prison without committing a thing. I succeeded to escape from prison after 4 months. I joined a group of 80 people that escaped from Sudan to Sinai. After we passed the money to the smugglers they told us it's dangerous to leave now to Israel. We waited another week. There was a girl there that the Bedouins called and told her they want to talk to her and when she came back she told me she was raped. Afterwards they wanted to take another girl but I argued with them, when the week passed all the 80 people were taken but I was left an extra 11 days with the Bedouins in the desert.
G. Y. (Right): I am 22 years old, born in Gezira, Sudan. I have been imprisoned for a year and 3 months. I don't know why.
My brother is a political activist with the opposition group fighting against the regime of Sudan. The Sudanese security forces came to look for him and when they didn't find him, they arrested me instead. I was imprisoned for a year and a month.
I came to Israel to ask for protection, but here they imprisoned me for a longer time than in Sudan.
I am asking for my freedom.
A. S. (left): I am 38-years-old, married and a father of 2 children. I was born in Niala, South Darfur. My father was murdered during an attack on our village in 2003 [as part of the Darfur genocide]. We had to run away and seek refuge in the "Kalma" refugee camp. My mother, wife and children still live there until today. I miss them very much and I don't know what their situation is.
I came to Israel to seek protection but I was imprisoned. I am in prison for almost 2 years.
I don't want to be imprisoned any more.
Malik (right): I was in Sinai a month and a half and I paid 3,200 dollars. I was in 'Saharonim' prison for a year and a half and then I was moved to 'Holot'.
I don't know the whereabouts of my family and I don't have any way to contact them.
My father died and I escaped from Eritrea so they won't draft me into the army. I escaped through Sudan in 2012.
There is no difference between 'Holot' and 'Saharonim'. People are losing their minds here. Ever since I arrived to 'Holot' I haven't left since I don't know anyone in Israel.
A. (Left): I am 26 years old from west Darfur. I have been imprisoned for 16 months and I don't know when I will be released.
I came to Israel because of the war in Sudan. We escaped from the war to ask for freedom and security but the government of Israel imprisoned us.
We are refugees, and we need freedom, we need to receive our rights as refugees.
I didn't choose to be a refugee… I don't wish for any person in the world to feel what it is to be a refugee. It is a very lonely place.
Zerei (Right): I am front Eritrea. I can't fall asleep at night. There are people that have gone crazy here. In 'Saharonim' at least you know that you are to stay in one place and you can't get out. Here, they give you the option to leave but they tell you that you must come back.
F.D. (left): I have been imprisoned for almost two years. I am 29 years old from the Blue Nile state in Sudan.
I came to Israel to seek protection. All I ask for is freedom, but the state of Israel imprisoned me for two years. I am a human being, I am a refugee, and I came to ask for protection. I came to ask for freedom. I was told I would be released from 'Saharonim' prison, but then I was transferred to a new prison.
We are humans, flesh and blood, even if we came from Africa, we are humans.
Why don't we deserve freedom?
A.A. (right): I am 34 years old, from the Mara Mountain in west Darfur and I have been in prison in Israel for two years.
I came to Israel after my father and mother were murdered in Darfur. Today, my surviving family members are scattered between refugee camps in Darfur. The war took everything from us, our home, family and our future.
131213. That is the number of my refugee card from the 'Niartate' IDP camp in Darfur.
The ministry of interior told me I would be released, but I wasn't.
I have been in the 'Ketsiot' prison, the 'Saharonim' prison and now I am imprisoned in the 'Holot' prison.
I ask for freedom.