"Streamlining the Process": On the Mistreatment of Asylum Seekers by the Immigration Authority When They Renew Their Restricted Release Permits
On December 10, 2013, Amendment 4 to the Anti-Infiltration Law was passed swiftly. According to the amendment, asylum seekers who arrive in Israel via the Egyptian border will be jailed for at least one year. After that they will be transferred to Holot, an open prison, until they are returned to their home countries. At Holot, located adjacent to the Saharonim closed prison, inmates must be present for roll call three times per day, and they must sleep there every night. While it is overseen by the Israel Prison Service, it is not defined as a prison and therefore there is no judicial review and prisoners have no chance of being released. Immigration Authority officials conduct talks with the inmates and try to convince them to return to their home countries. A monetary grant of $3,500 is offered to those willing to leave by the end of March 2014.

The race for a visa at the Ministry of Interior Office, December 31, 2013
Upon the official adoption of Amendment 4 to the Anti-Infiltration Law on December 15, 2013, having a permit became more necessary due to the harsh punishment for not holding a valid permit. In recent months, Immigrant Authority officials transferred asylum seekers who were unable to renews their permits to Saharonim Prison, where an immigration official determines how long they will be incarcerated before being transferred to Holot, where their detention is indefinite.
According to a report by Ilan Lior, published in Haaretz on March 6, 2014, the Holot facility can house 3,300 people, and the state summoned 4,100 (Hebrew link). This document presents what happened to those among the 4,100 asylum seekers who were able to get into one of the Interior Ministry bureaus, where they were summoned to Holot.

Hundreds of asylum seekers trapped between the fences at the government headquarters in Tel Aviv, February 25, 2014
Until December 2013, the Immigration Authority provided permit extension services for asylum seekers at 24 of its offices, which were open to the Israeli public, as well as to asylum seekers, during daily reception hours. (On December 26, 2013 the Immigration Authority announced that only four of its offices (Tel Aviv, Be'er Sheva, Haifa, and Petah Tikva) would provide services for asylum seekers. On January 15, 2014, two more offices were added, in Rishon Letzion and Eilat. On February 20, 2014 another office was opened in Nazareth. Specific asylum seekers may also obtain permits at the Immigration Authority office at Ben-Gurion International Airport. On February 27 the Immigration Authority office in Tel Aviv closed and reopened March 4, 2014 on Tuval 3. The offices cannot provide adequate services due to the sheer volume of requests.)
In December 2013, following the passage of Amendment 4 to the Anti-Infiltration Law, the Interior Ministry drastically reduced the number of offices that provide services to asylum seekers, as well as reception hours for asylum seeker services: The Immigration Authority left only four offices around the country that offer services to asylum seekers, for two and a half hours, during only two days a week. Three additional offices were subsequently opened.
As a result, entering one of the seven Interior Ministry offices that handle asylum seeker requests is nearly impossible. Asylum seekers travel across the country before dawn, oftentimes sleep on the steps leading to the office overnight, stand crowded between the gates with hundreds of other asylum seekers, women and children. The asylum seekers must stand in these lines because many employers are afraid to employ them without valid permits, and they need to earn money to support themselves. Only after several days of waiting can some 10-200 asylum seekers obtain permits, for one to three months, at each of the seven Interior Ministry offices locations.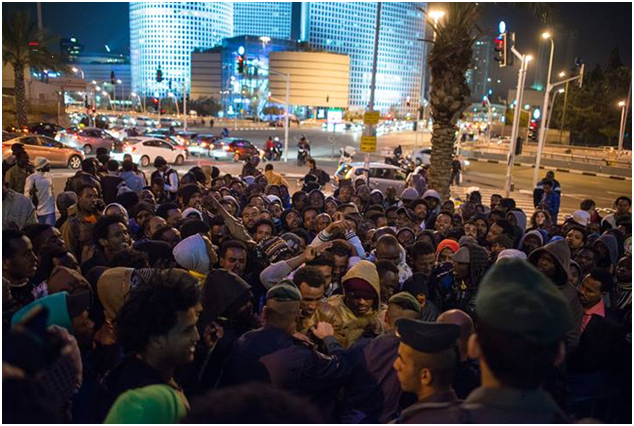 Security guards push back asylum-seekers after the closing of the Ministry of Interior office on December 31, 2013 (Photo: Yair Meyuhas)

In January 2014, the Immigration Authority reported that it had renewed only 2,000 permits. (From the State's response given on January 19, 2014 to the Hotline's administrative petition 16785-01-14 Babiker (Detainee) vs. Ministry of Interior). Most of the 50,000 asylum seekers have permits that are valid for only two months, and therefore half of them had to renew their permits in January. The fact that 4,100 asylum seekers were summoned to Holot over the past two months indicates that most of the asylum seekers who were able to enter the Interior Ministry offices were summoned to the Holot facility. From there, the only chance for release is to their home country.
Pressure at Immigration Authority Offices, January-March 2014

In recent months, the number of asylum seekers waiting at one of the Immigration Authority offices stood at several hundred. More than 1,000 asylum seekers were counted during three days of reception hours in Tel Aviv and Beer Sheva.

Hundreds of refugees trapped between fences in the new Ministry of Interior office in Tel Aviv, March 5, 2014
I stood all day with about 800 Eritreans opposite the Interior Ministry at Azrieli [in Tel Aviv]. I usually stand there all day for three days of the week, but today was really hard. There were many women and children. It was very crowded and there wasn't enough space. People were pushed to the street all of the time because it was crowded. Israelis were mad at them, said "What do you want?" "Why are you pushing them to the street like that?" They didn't understand that we had no choice, that there was no more room around the building, and that we're being pushed to the street without wanting to be. I've been here a month and four days without a visa. The manager fired me right away. I have two kids and I have no way of buying them food. I got a note at the Interior Ministry with the date January 21. I went there a few times and I didn't get in. When it was my turn my daughter was sick. I brought a letter from the doctor to the Interior Ministry. The manager said, "I don't care about your daughter. You have to come on time. You didn't come? No visa." I've been standing ever since, and have gotten more notes, but haven't been able to get in. Today people said that they opened an Interior Ministry office in Kfar Saba. My friends went there, said there were 300 Eritreans opposite the Interior Ministry, but they didn't open at all. People are traveling across the country, looking for visas because you can't live here without a visa. — Eritrean Asylum Seeker, February 23, 2014, Tel Aviv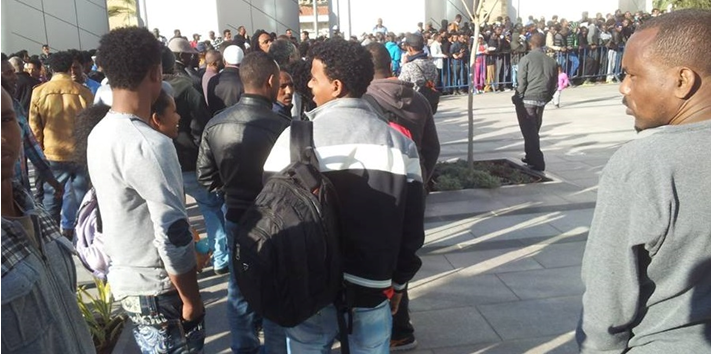 Outside the Ministry of Interior Office in Tel Aviv, February 16, 2014 (Photo: Eritrean asylum-seeker)


Outside the Ministry of Interior Office in Beer Sheva, February 18, 2014 (Photo: Yael Krieger)

I got to the Interior Ministry in Haifa today at 4 A.M. There were many people who had been sleeping there since Saturday night. I counted 175 people who slept there overnight. I didn't know that the Interior Ministry only opens at 4 P.M. I saw that until noon they weren't opening the office and I thought that maybe they didn't have visa reception hours, so I took the train to Tel Aviv, to the office opposite Azrieli. Even though I got to Azrieli a few hours before the office opened, I was number 277. I've been without a visa for four days, and try a different Interior Ministry office every day. On February 11 I traveled to Rishon Letzion, but there were several hundred people there and I couldn't get in. The next day I heard that you can get a visa in Hadera. I went there and waited all day, but they didn't open. It was closed. Lots of us slept there overnight, and the next day people told us to leave and that they don't open there. — Eritrean asylum seeker, February 16, 2014, Haifa
Many asylum seekers reported that while standing crowded among several hundred asylum seekers outside the government offices in Tel Aviv, where the Immigration Authority office was located (it was recently moved), Immigration Authority officials told them to leave the site and try the offices in Be'er Sheva or Haifa, claiming that it was not crowded there. They said this despite the fact that asylum seekers reported at the time that it was extremely crowded at those particular offices, with 500-1,000 asylum seekers waiting for their turns.
Among the minority that was able to get in the office, many do not get permits or summons to Holot, but rather a note sending them to the Immigration Authority office at Ben-Gurion International Airport. Terrified asylum seekers visited the offices of Hotline for Refugees and Migrants in an attempt to understand why they were summoned to the airport. Two suspected that they were invited to the airport and would be deported to Eritrea. After Hotline volunteers clarified to them that they cannot be deported to Eritrea against their will, and that there is no quick way to determine why they were summoned to that particular location, they went to the office at the airport. After a nerve-wracking delay, they were sent by Immigration Authority officials at the Airport back to Petah Tikva or Be'er Sheva.
Others, who managed to get into the Interior Ministry offices, failed to receive a visa as the clerks wanted them to bring their wives with them, or because one of their document was in English or Arabic, official languages in Israel. Some failed to present the necessary documents because the list of documents was constantly changing and not available anywhere.
Immigration Authority Conduct Violates International Law

Contrary to the State of Israel's Commitment to the Supreme Court, made in January 2011 and according to which no enforcement measures would be taken against asylum seekers or their employers (Supreme Court 6312/10 Kav L'oved and Others vs. Government of Israel), volunteers for Hotline for Refugees and Migrants compiled testimonies from employers who said that Immigration Authority officials across the country tell them not to employ asylum seekers without valid permits, despite the fact that those asylum seekers were not summoned to Holot. Hotline for Refugees and Migrants and the Program for Refugee Rights at Tel Aviv University contacted the Immigration Authority, demanding that employers be made aware that they will not be fined for employing asylum seekers without permits. Some of Hotline's appeals went unanswered, and some were answered with the absurd claim that whoever comes to the Interior Ministry gets a permit that day.
When a host country makes asylum seekers' stay in the country harder and more burdensome, there arises a concern of deportation under the guise of "voluntary repatriation." For example, if asylum seekers are not given access to food, housing, or health services; if they are subject to repeated arrests aimed at undermining their sense of security; and if they are forced to sign travel documents ahead of a return to their country – all of these things cumulatively are means that force upon the asylum seeker the impossible choice of either returning to the danger of persecution or attempting to survive in inhumane conditions in the hopes that they will successfully get through the asylum procedures.
The cornerstone for protecting refugees is the principle of non-refoulement – a prohibition on deporting or returning a person to a place where they may face persecution. Article 33 of the declaration stipulates the following: "No Contracting State shall expel or return ("refouler") a refugee in any manner whatsoever to the frontiers of territories where his life or freedom would be threatened on account of his race, religion, nationality, membership of a particular social group or political opinion." (Article 33 of the 1951 Convention Relating to the Status of Refugees)
The United Nations High Commissioner for Refugees (UNHCR) stipulates that incarceration with the intent of encouraging voluntary repatriation, negates free will and may cause the return of individuals to a place where they may face persecution. UNHCR in Israel regarded Israel's asylum policy, stating that the voluntary repatriation of asylum seekers from Sudan is possible if conducted discreetly, if the decision was completely voluntary and was not made as a result of pressure, without threats of deportation, and was not forced.(Letter from William Tall, UNHCR, October 2, 2012) Regarding asylum seekers from Eritrea, UNHCR states that consent to return to Eritrea under an ultimatum of jail can't be considered voluntary by any criterion and is explicitly not voluntary return.
Amendment No. 4 to the Anti-Infiltration Law, the failed asylum system in Israel that does not recognize refugees, the pressure on jailed asylum seekers to leave, and the Immigration Authority's policies pertaining to granting permits, as described in this document, constitute a violation of international law and a violation of the principle barring the return of an individual to a place where he or she may face persecution.
Summary
The detailed picture presented in this document raises suspicions that when the head of the Immigration Authority notes the efforts that the Authority has made to "streamline the process," he does not mean the permit issuing process, but rather the process of asylum seekers "voluntarily" leaving the country. Asylum seekers waiting for permits told Hotline volunteers that those wanting to sign up for "voluntary repatriation" do not have to wait in long lines.
The Immigration Authority publicized the fact that it issued 4,100 Holot summons to asylum seekers. Stapled to every summon was an invitation to register for the "voluntary repatriation" campaign. The campaign will grant those registering with a free ticket to the country from which they fled, and $3,500 from the Government of Israel. The abuse described in this document undoubtedly contributed significantly to the decision made since December 2013 by 3,000 asylum seekers, many of them survivors of the genocide in Darfur, to put their lives at risk and return to their home countries. Conversations with those who registered for "voluntary repatriation" indicate that they can no longer stand the abuse and stress, and that they plan to use the money from the State of Israel to immediately flee to a country in Africa that they hope will be able to better protect them, until conditions in their home countries improve.
Research and Writing: Sigal Rozen
Information Gathering and Photos: Asylum seekers from Eritrea and Sudan, and Israeli volunteers
Translation to English: Orna Dickman
Dedicated to the thousands of asylum seekers who stand in long lines in front of the Interior Ministry offices from morning to night and display admirable patience